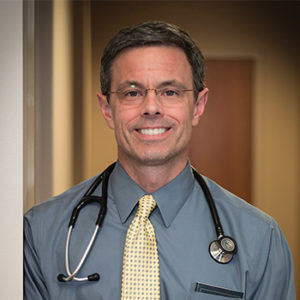 Patrick O'Connell, MD
Born and raised in a small town in North Carolina, Dr. O'Connell spent much of his youth outdoors enjoying swimming, hiking, and Boy Scouts.  He received a BA from Brown University and returned to North Carolina for medical school at UNC-Chapel Hill.  While he was drawn to the intellectual side of medicine and to the problem-solving of diagnostic thinking, it was in a clinical rotation with a family physician that he discovered the call to serve through the personal relationships of primary care medicine.  Knowing that he wanted to be a primary care physician, he went from Chapel Hill to Baltimore to train at Johns Hopkins' primary care internal medicine track at Johns Hopkins Bayview Medical Center. At the end of his first year he was named Intern of the Year and ultimately stayed on after completing residency training for an additional year as Chief Resident.  After two years as a clinical faculty at a small residency training program an hour north of Baltimore, Dr. O'Connell married and returned to the Triangle in 2006.  He established himself in Raleigh as a well-liked primary care physician with Duke Health for a decade before founding Sentinel Primary Care in 2017.
Known in his Duke practice for being notoriously behind schedule for spending "too much" time with his patients, Dr. O'Connell practices with a focus on the individual; his philosophy is that the best primary care is delivered one visit at a time, between a doctor and patient who know and trust one another.  Doing primary care well requires not only the technical know-how of medicine but a heart for the individual relationship.
Dr. O'Connell is married with four children. The O'Connell family attends St Joseph Catholic Church in Raleigh. Dr. O'Connell's former outdoor activities like mountain biking have given way to kids' activities, and when he's not at Sentinel Primary Care he's working hard at his top priorities, being a husband and father.
Undergraduate:
Brown University '94

Medical school:
University of North Carolina-Chapel Hill '00
Internship & residency:
Johns Hopkins Bayview Medical Center '03
Chief resident:
Johns Hopkins Bayview Medical Center '03-'04
Board-Certified Internal Medicine
(Video Transcription)
I live in Raleigh. I've been back in North Carolina since 2006. I grew up in North Carolina. I'm a rare North Carolina native living in the Triangle; there's probably not very many of us. I grew up near Winston-Salem, a little town half an hour north of Winston. When I was a kid it was a little farming community. There is still some farming there now, but it's grown since then. Not so much farming now. Off in the distance is this really distinctive mountain, Pilot Mountain, that's sort of an oddball mountain that sticks up out of the low, rolling hills of the Piedmont. That was my growing up. Now I'm in Raleigh many years later. I've got a family and most of my time I spend with kids' activities going from this sporting event to that dance event, taking kids to school, and that's the majority of what I do these days. Every once in a while, I'll fly radio control planes, a hobby I had as a kid and picked back up a few years ago. It's a nice diversion that's totally different from anything else that I'm doing.
As far as being a primary care doctor, I love primary care. I love what I'm doing. I think this is one of the best jobs on the planet. I absolutely am in love with this. And I'll tell you a couple of stories about me getting to be where I am now and falling in love with primary care. The first story is a science one, and the second one is more of the personal contact of medicine.
When I was an undergrad, I remember sitting in the library in a physiology class and I was studying the blood system and hemoglobin that carries the oxygen and the blood. And I remember reading that the fetal hemoglobin of a child in the womb has a stronger affinity for oxygen than does the mother's hemoglobin, the point of which is so that the fetal hemoglobin can draw oxygen across the placenta for the growth and all of the nutritional needs of the growing child, and I remember coming to that moment and reading this in a textbook and thinking, holy cow — this was one of these just amazing moments of this wonderful complexity of our biological systems. That's the moment that just drew me deeper and deeper into biology and into science. Ultimately, it's that fascination and being mesmerized by the sciences that drew me into medical school.
When I got to medical school, I became immersed in as much science as I could possibly learn as fast as I could possibly learn it. But very interestingly, something started to happen, and I realized that all of this delightful science that I'm learning, all of this physiology and biology of how we work, something was missing. I needed something different, something deeper, and it was enough of a disconnect that I actually came to a crisis while I was in medical school. I thought, I've done the wrong thing, I've gone down the wrong path of my life. This was a very difficult time for me in medical school, but then I had this wonderful experience: I worked with a family physician in the mountains of North Carolina, spent six weeks with him, and it was six weeks that changed everything that followed after it. In him I saw the science of medicine at work. He would see a person for an office visit and address the medical problem. He would figure out whatever was going on with them, and then when he was done he would say, So how are you? How's your mom? How's work going? And he cared. He knew enough about the people that he took care of to ask these questions, and he cared what the answers were.
I realized in him exactly what I was looking for. I needed that integration, that more holistic care of the whole person, not just the people's hemoglobin but of people, and that's what he was doing. He would take care of their medical problems and then he would take care of them as a person. And I saw in him exactly the kind of doctor that I wanted to be. Ever since then, that has been the path that I've pursued. I went into medicine thereafter very clear: I wanted to be a primary care physician, and that's what I've done. I am happy to say that I have found one of the best jobs on earth, and I love being a primary care doctor.